Feel that "Arctic Air" with Our Air Conditioning Options and Upgrades
Since 1998, we've been installing, repairing, and maintaining a vast range of air conditioning systems and heat pumps. We know all too well that every home, office-building, and customer is unique and special, so we provide customized solutions that fit your home's of office's air conditioning needs. We only install Carrier Brand AC's and Heat Pumps, so you can rest assured that you're getting the best quality from the best brand on the market.
The Difference Between an Air Conditioner and a Heat Pump
An Air Conditioner and a Heat Pump look almost identical from the outside, and perform similarly for your house while in their cooling stage in the summer, but the difference could help you decide which better suits your living space and which product to invest in!
Heat Pump
A Heat pump works by pumping hot air from inside your home to the outside, in order to cool down the interior in the summer. In the winter months, quite the opposite happens. Due to a reversing valve inside the system, heat is pumped from the outside air, into a heating element and into your home. You should consider a heat pump if you need to warm up your house quickly and efficiently and are looking for an electric system instead of natural gas or propane. The only downfall to this is that when it gets to below freezing outside, it will switch to an auxilliary heat source, such as a fan coil in your home, which uses more electricity and will affect your energy bills. Efficiently speaking though, a heat pump will pump more cool and warm air through your house versus an air conditioner.
Vs.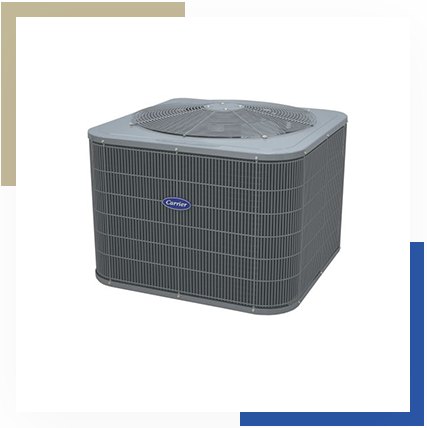 Air Conditioner
An Air Conditioner works by pulling warm air out of your home and running it through a condenser charged with refrigerant, and pumps it back into your house to drop the internal temperature. An Air Conditioner cannot pump warm air back into your house, so they are typically paired with natural gas or propane furnace in order to heat your house in the winter. Air Conditioners are also constantly filtering air, which improves indoor air quality and reduces allergens. Like a heat pump, Air Conditioners use a lot of electricity, but only during summer months if you are using a natural gas or propane
furnace during the winter. In turn, this creates a longer lifespan for the system because you are only using it in the summer months and not year round like you would for a heat pump.
While choosing between a Heat Pump or an Air Conditioner, both work amazing, but there are Pros and Cons to both. A similar downfall to both, is energy efficiency. Just like most things, there is always room for improvement. Luckily, Carrier has created both Heat Pumps and Air Conditioners that are filling that void.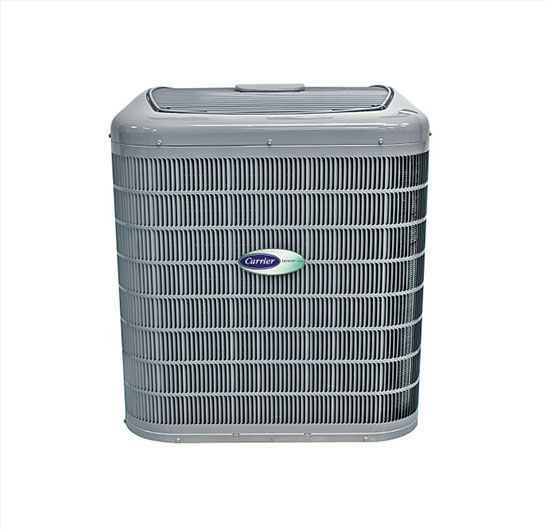 Introducing:
The Carrier Infinity Greenspeed
The Greenspeed is available in both a Heat Pump and an Air
Conditioner. It uses Carrier's most advanced technology yet, to improve efficiency and lower your homes energy bill. It does this by using what is called a "variable-speed compressor" which allows it to literally adapt how much output is produced, based on the needs of your home. With home capacity adjustments between 25 and 100%, it gives your home only the amount of cooling or heating necessary. This allows the system to operate longer at steadier, lower capacities, which ensures incredible energy efficiency and quiet operation.
Feel the Warmth this Winter with an HVAC Company
You Can Trust
Is your house without heat? We should meet! Our highest priority in the winter is treating your home as if it were our own. We never want to make you live in the cold for days at a time. Our certified technicians will be out there fixing it before you can even get the blankets and coats out.

When the temperature drops, we want your energy bill to do the same! Let us install or upgrade your home or office with an energy-efficient furnace. A warm home in the winter is even cozier when you're saving money.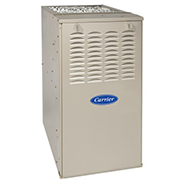 The Carrier comfort base model has an energy efficiency rating of 80%. If budget is a primary concern in your decision process, this is going to be a furnace you really do appreciate. It is built to last with solid performance, and is backed with a 20-year factory authorized heat exchanger limited warranty.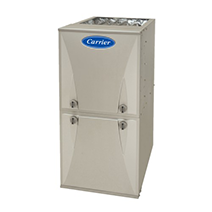 The Carrier Comfort series delivers an amazing energy efficiency rating of 95%. Its upgraded electrically driven blower motor with variable-speed options provides superior comfort and energy efficiency that is specifically designed to save you money on those energy bills.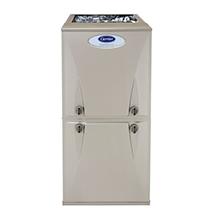 The Carrier Infinity series has the best energy efficiency rating offered, running up to 96.7%. Backed by the intelligent Infinity control, this furnace communicates with the blower motor to distribute a low or high-stage run. Typically this furnace will run in low stage 90% of the time, which gives you a more efficient, quieter, and more comfortable home heating experience.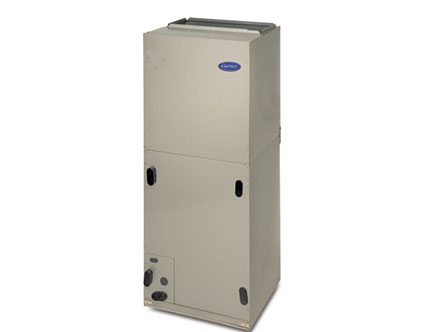 We Also Offer Electric Furnaces and Fan Coils for Heat Pumps.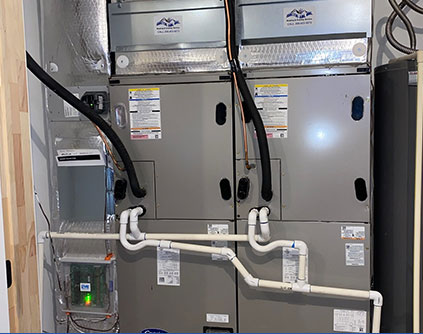 Cold Shop or Garage? Lets Crank Up the Heat in There Too! Ask
Us About Hanging A Unit-Heater!
Reznor's UDX Model gas-fired unit heater are great for space heating applications. These units are power vented to eliminate heat losses up the flue pipe. These are available to us in 14 different sizes ranging from 30k BTU to 400k BTU, making it easy for us to calculate the perfect size for your space.